A Reliable Residential Locksmith Service in Dayton.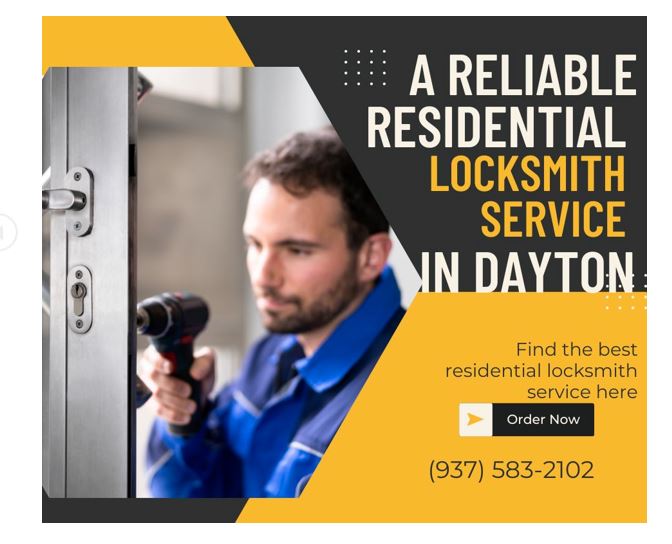 Many people find themselves locked out of their homes at some point. Whether it is a small moment of forgetfulness or a big mishap, you can find yourself locked out of your home. You will need a locksmith in Dayton to help you when this happens. Locksmiths can be expensive, so it is crucial to find a reliable company that you can trust. In this article, you will get to know the best company in Dayton regarding locksmith services. Dayton Locksmith Solution is the best locksmith company in the area, and we provide top-quality service at affordable rates. Contact us today at (937) 583-2102.
We provide homeowners with various solutions for their home security needs. These services include installing and repairing locks on doors and windows and providing key duplication and lockout services. With a team of experienced and certified locksmiths, we ensure that homeowners in Dayton can feel safe and secure in their homes.
Why you should hire Dayton Locksmith Solution for your home security
For several reasons, hiring Dayton Locksmith Solution is essential for your home security. These reasons include the following;
First, we can help you properly install and maintain the locks on your doors, windows, and other entry points. This can help prevent unauthorized entry and keep your home and belongings safe.
Second, we provide emergency services if you are locked out of your home or if your locks malfunction. This can help you get home quickly and avoid potential danger or inconvenience.
We are honest and upfront about our services and pricing, so you can trust that you are getting a fair deal and not being overcharged for their services. This can give you peace of mind and help you avoid potential scams or fraudulent behavior.
Also, we are available 24/7 to assist you with any emergency lock or security issues that may arise. It provides immediate support and helps prevent potential security breaches or damage to your property.
Dayton Locksmith offers residential services in Dayton.
Residential services offered by Dayton Locksmith Solution include:
Lock installation and repair
Key duplication and replacement
Rekeying of locks
High-security lock installation
Safe and mailbox lock installation and repair
Emergency lockout services
Security assessment and consultation
Door and window lock installation and repair
Access control systems installation and repair
Garage door lock installation and repair
Importance of these services for maintaining the security of your home
The security of your home is of utmost importance, and several services can help maintain the safety of your home. Some of these services include:
1. Home security systems typically include sensors and cameras that can detect potential threats and alert the authorities or homeowners in an emergency.
2. Burglar alarms can be triggered by unauthorized entry into your home, alerting you and potentially scaring off the intruder.
3. Surveillance cameras: These can be placed strategically around your home to monitor activity and provide visual evidence in case of a break-in or other security threat.
4. Smart locks: These locks allow you to control access to your home remotely, adding an extra layer of security to your home.
Using these services can help maintain the security of your home by providing an early warning system, deterring potential intruders, and providing evidence in case of a security threat.
Choosing us for your reputable locksmith services in Dayton
We are a reputable locksmith service provider in Dayton for the following reasons:
1. License and certification: We are licensed and certified to offer our services in Dayton. We have undergone the necessary training and have the required expertise to handle your residential locksmith needs.
2. Reputation: We are a locksmith with a great reputation and excellent customer reviews due to our professionalism and excellent customer service.
3. Experience: We have many years of experience than many other locksmiths in Dayton.
4. Range of services: We offer a wide range of services, such as lock installation, repair, and replacement, as well as emergency services.
5. Availability: We provide 24/7 timely and efficient services in case of an emergency.
6. Pricing: Dayton Locksmith Solution provides competitive prices on our services without compromising the quality service we provide.
Emergency residential services offered by Dayton Locksmith Solution
Dayton Locksmith Solution typically offers a range of emergency services, including:
Unlocking doors: If you are locked out of your home, we can quickly unlock your door and provide you with a new key or repair your existing lock to prevent future lockouts.
Repairing or replacing locks: If your lock is damaged or malfunctioning, we can repair or replace it on the spot. This can be especially helpful in emergencies, such as when your lock is stuck or your key has broken off.
Installing new locks: If you want to upgrade your home security, a residential locksmith can help you choose and install new locks on your doors and windows. They can also advise you on the best locks for your specific needs and budget.
Providing emergency rekeying services: If you have lost your keys or are concerned about the security of your home, a residential locksmith can rekey your locks to ensure that only you have access to your home.
Having access to emergency locksmith services is essential for several reasons.
Firstly, it provides peace of mind knowing that a reliable and professional service is available to help when you are in a difficult situation. For example, if you are locked out of your home, we can quickly and efficiently unlock the door and allow you to gain entry. This can prevent you from feeling anxious and stressed about being stranded outside your home.
Secondly, emergency locksmith services can also be crucial in addressing faulty locks. If your lock is defective, it can pose a security risk to your home and belongings. We can assess the problem and provide a solution, such as repairing or replacing the lock, so your home is secure.
Thirdly, we can also help in emergencies, such as when a child or pet is accidentally locked in a car or a building. In these cases, time is of the essence, and having a professional locksmith on hand can make all the difference in safely rescuing the individual.
Conclusion
Hiring a Dayton Locksmith Solution is essential for the security of your home because we are trained and experienced in providing high-quality lock installation and repair services. We at Dayton Locksmith Solutions ensure that your locks function correctly and are secure, providing peace of mind and protection against potential break-ins or other security threats. We also offer dependable and responsive customer service, so you can trust that they will be available to assist you in an emergency or different situations. Contact us today at (937) 583-2102.